The daughter of veteran Nigerian media personality and activist Charly Boy has been at the centre of homophobic attack.
Dewy Oputa divided lots of opinion when she publicly identified as a lesbian back in 2018. The daughter of the former PMAN president shared the shocking and dehumanising messages she received via her Instagram Story on Sunday, October 24, 2021.
Apart from identifying as non-heterosexual, Dewy has been a regular voice, pushing for the legalization of gay marriages in places like Nigeria where it is still illegal and punishable by a prison sentence of up to 14 years.
One of the abusers targeted the US-based model's LGBTQ activism, saying that straight people are not known for forcing their relationships down the throats of people.
Another message read, "I'm coming for your head. Keep promoting nonsense and burn in hell," one of the messages read.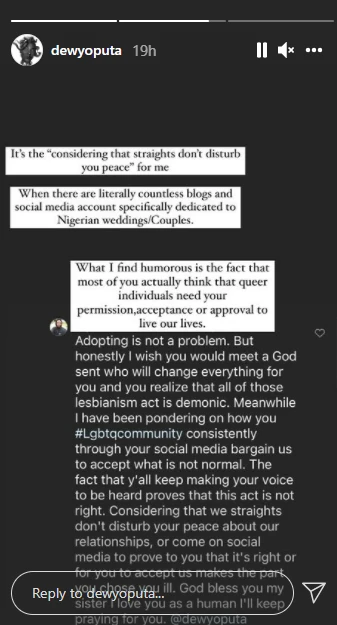 Back in March, Dewy and her partner celebrated their 3-years anniversary. She maintains that she's open to adopting children when it comes to the subject of parenting.