Actress Tonto Dikeh and Instagram influencer Usiwo Orezinena Jane, professionally known as Janemena are just about the latest Nigerian celebrities to engage in a poker game of celebrity wars.
However, what many observers may have concluded would only be a spat, almost ending as soon as Tonto's relationship with Prince Kpokpogri, which was the genesis, ended, has now morphed into a saga with both parties now issuing different rounds of threats and calling bluffs. Here's how everything started.
August 18 2021
A leaked voice recording of Tonto Dikeh's estranged lover, businessman Prince Kpokpogri and another woman surfaces Instagram, where they discuss Prince's adventure with other women and badmouth Tonto as well as accusing her of being mentally unstable.
August 19, 2021
Prince Kpokpogri disclaims the leaked voice recording, calls it a clone and promises to clarify with his original voice on IG Live.
August 22, 2021
Prince Kpokpogri fails to deliver on his promise of clarification. He maintains his stance on being innocent, however, taking to IG to write, "For those waiting for clarification, is Instagram my father company that am coming to defend his business ??? Abeg make I go London go enjoy live premier league jare. Fake news and audio."
September 3 2021
Tonto Dikeh and Prince Kpokpogri unfollow each other on Instagram amid break up rumour and other controversies surrounding their relationship.
September 5 2021
Prince takes to IG stories to share details of his relationship with Tonto, accusing her of cheating at the beginning and blackmailing him into forgiving her by threatening to commit suicide. The move eventually confirmed rumours of their breakup.
September 15 2021
Actress Doris Ogala accuses Prince Kpokpogri of being a serial blackmailer and an ex-convict.
September 16 2021
Tonto Dikeh files a lawsuit against Prince Kpokpogri, accusing him of threatening to leak her nudes. She also demanded the ex-lover repays a N2 million debt owed her.
September 23 2021
Prince Kpokpogri, after initially denying he was arrested by the Department of State Services according to a plea by Tonto, sues both Tonto and the DSS for infringing on his fundamental rights and demanded a compensation of up to N10 billion naira.
.
.
.
Tonto Dikeh reveals via an Instagram post that Prince Kpokpogri's real name is James Egbri. Alleges he's a schemer who makes a fortune off blackmailing high-profile women. According to Tonto's post, Prince has in his possession, sex tapes of several Nigerian celebrities and it's only a matter of time before he's ringing their phones and asking for pay. However, Instagram influencer Janemena was the only person she namedropped.
.
.
.
Prince Kpokpogri denies having sex tapes of Janemena, accuses Tonto of dragging the influencer into their ship that had long sank. He also alleges its a taboo to have an affair with a married Isoko woman.
September 27 2021
Prince Kpokpogri tenders public apology to Janemena and her husband.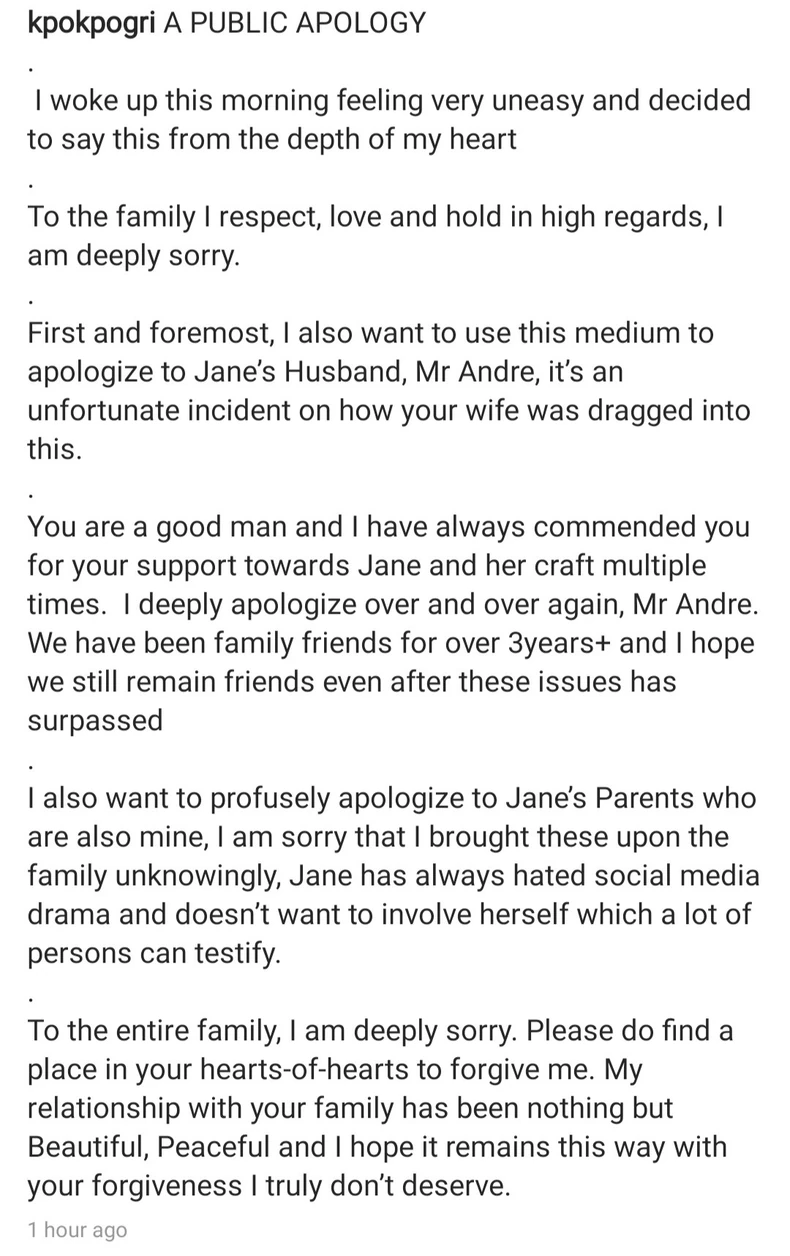 October 12 2021
Janemena files lawsuit against Tonto Dike, accusing her of defamation of character, and demanding a settlement of N500 million and an unreserved apology.
.
.
.
Tonto Dikeh accepts Janemena's lawsuit. However, she accuses the dancer of begging of being 2faced, begging her not to leak the tape behind the scenes in order to save her marriage and now threatening her with a petition. "See you in court," the actress wrote.
.
.
.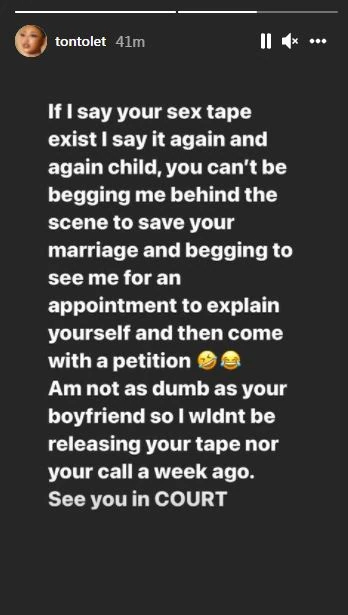 Janemena dares Tonto Dikeh to release the alleged sex tapes in her position, adding that she never beeged her neither have they spoken before.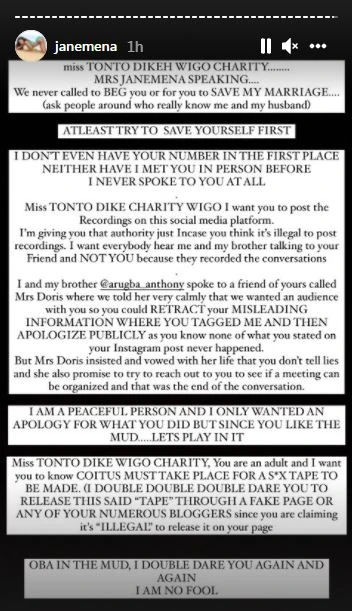 That's all there is for now. Will they go to court. will they settle outside court, will the alleged sex tape get leaked…. Guess we'll find out soon enough.